2006年 05月 23日
| | |
| --- | --- |
| Gaula - The salmon have arrived!!! | |
Norwayにあるサーモンフィッシングのメッカである「Gaula」より下記Mailを入手しました
QTE
The salmon have arrived in Rognes on the Gaula!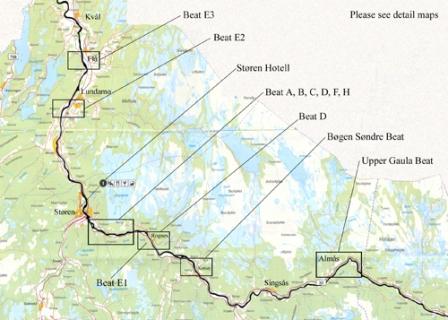 There have been a number of indications that the salmon will be spread far up in the Gaula river system from the season start on the 1st of June. Due to the early spring flood, the salmon start early to run this year. Senior scientist Torbjörn Forseth of the Norwegian institute for Nature research (NINA) believes this and is of the opinion that we will experience a good salmon season, especially in bigger rivers like the Gaula. He reports that smaller rivers might face water difficulties at one stage as the amounts of snow left are not very impressive.
The first fresh fish above Gaulfossen have been seen this week in Rognes, which is in the middle reaches of the river. Therefore we have reason to expect on the 1st June fresh run salmon as high as our highest beat, the new Upper Gaula Beat above Singsas. Please see the map of the location of the NFC Beats on the Gaula, the beats are located strategically from the lower to the upper reaches of the Gaula – a unique chance to be "at the right time on the right place"!
We have still a number of rods vacant from the season start onwards and would encourage you to give us a call or send us an email if you are interested to join us.
Manfred Raguse
Norwegian Flyfishers Club
Phone: ++49-40-5892302
Fax: ++49-40-5892304
Email: Raguse@t-online.de
Web: www.nfc-online.com
P.S.: Please take a look at our website…
幻の50ポンドクラスを釣りたい方、是非一度Gaulaへ如何ですか?